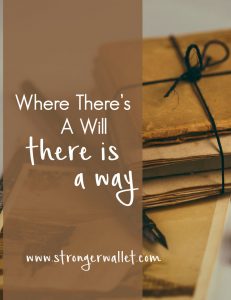 I continue to be surprised by the number of people I visit with that admit to not having a will, particularly people that seem to have it "all together". What? Don't you discuss these kinds of things with friends and colleagues? Now you are questioning my abilities as a conversationalist? Fair point, but I swear it really does come up in normal conversation (at least my version of normal). My interpersonal shortcomings aside, these are often people who know better but have put off this task for one reason or another. In some cases, these are people who offer advice to others about the importance of having a will but haven't managed to get their own will in place. Yes, you know who you are. Do as I say not as I do, right?
There are plenty of reasons that adults need wills, but in my view, these are the three most important ones:
It is a hassle for your family if you die without one.

Extra paperwork. Extra time. Extra expense.

It is a practical way to make your wishes known.

 No one can read your mind, not even (especially not?) your spouse or significant other, particularly while they are grieving. Do everyone a favor and spell it out.

It names a guardian for your minor children.

 Love your kids well enough to do this. <–A little harsh? Maybe. Guilt can be a powerful motivator. If a cheap shot gets you moving, I've done my job.
Hassle factor & leaving things up to the court
If you die without a will (intestate), the court typically appoints a personal representative or administrator to close out your estate. The person appointed will be in charge of your assets after your death. This isn't a job best left to chance. Do you really want your impulsive brother that has trouble paying his rent to take on this assignment?
When you die without a will, your assets will typically be distributed according to the intestate succession laws in your state of residence. This is limited to the assets that would pass through your will (if you had one). So, real estate owned in joint tenancy, life insurance policies with named beneficiaries, payable-on-death bank accounts and transfer-on-death investment accounts are generally excluded. Yet another reason why you should designate beneficiaries on all your financial accounts and life insurance policies. Go now and get it done. Read this post for more details.
Save your family the hassle and create a last will and testament that names a personal representative to handle your estate and communicates your wishes regarding the distribution of assets. That way, things are handled according to your plans and not via state court.
Providing for your minor children
One common reason parents put off creating a will is indecision about naming a guardian for their children. For married couples, the guardian equation only comes into play if you both die. If there is a surviving spouse (or former spouse), they are generally going to have custody of any minor children. So, if an accident takes you both, the last thing you want is for the state court to have to step in and decide the future of your children after you are gone. That process won't be quick and it will be emotionally draining for your kids and whoever is taking care of them in the interim.
Don't let the guardian decision delay you any longer. Find a way to overcome your issue on naming a guardian. Helpful resources here and here.
You and your spouse can't agree on a guardian?

Name a guardian panel that has the authority to choose the guardian that's right for your kids at the time, with input from the kids (source).

Your first choice of a guardian doesn't handle money well?

That's okay. Let them take on the parenting responsibilities and name someone else to act as trustee to handle the money that provides for your kids. It is generally better to divide those responsibilities anyway.
Engaging and attorney vs. online services
Do you need an attorney to create a basic last will and testament? Probably not. There are several reputable web-based resources available to help you create a state-specific will. Some quick Google "research" indicates that you can get state-specific, basic estate planning documents for $40-$75 through a service like US Legal Forms or Legal Zoom. If cost or finding time to meet with an attorney is a constraint, using an online service is an alternative worth considering. The key here is to get a will in place. If using an online service allows you to take action more quickly, then get to it.
We preferred meeting with an attorney to prepare our wills. I appreciated being able to ask questions, get advice on certain scenarios and talk through options. She made some suggestions we hadn't thought of and helped us clarify our intentions. For us, engaging an attorney to help was the right choice. It cost us $600 to create standard estate planning documents for both my husband and me. Worth it!
Get it done and forget about it? Not quite.
Not only do you need a will, you also need to keep it updated. My husband and I are in the process of updating our wills. As is often the case for couples, the impending birth of our first child motivated us to have wills drafted along with advanced medical directives, and health care and durable power of attorney documents. We signed the documents, patted ourselves on the back for having that task behind us and went on our merry way. That was four years and two kids ago. Things have changed and we have a few modifications to make. I'm not saying you need to review your will every year, but blow the dust off those documents every so often and give them a once over to make sure they still accurately reflect your wishes. Certainly do a review after major life events in your family (marriages, divorces, births, adoptions, deaths). It's also a good idea to review your will if you change your state of residence to be sure it complies with state law and will be considered valid in that state.
thanks for reading,
Lesley
Do you have a will?
If not, what is holding you back?
---
The content of strongerwallet.com is provided for general information purposes only and does not constitute professional advice. Readers should not act upon the content or information without first seeking appropriate professional advice about their specific situation.
Never miss a post
Thanks for reading!
Subscribe to get my latest content delivered to your inbox.