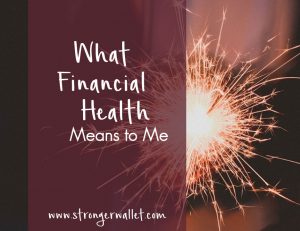 I'm participating in a blog post contest today sponsored by the Center for Financial Services Innovation (CFSI). The group's mission is improving the financial health of Americans. CFSI has deemed June 29, 2016 the first annual #FinHealthMatters Day.
Part of the motivation of #FinHealthMatters Day is to raise awareness of financial health in America and start a conversation about what that looks like for people all over the USA. Let's talk about financial health and why it matters.
Financial health matters to me because it allows me the freedom to be present in the moment without a bunch of financial stress and worry distracting me. It is nice to send my inner-Eeyore packing because my financial house is (mostly) in order and provides a measure of stability. This freedom to be present is most noticeable when we are faced with something unexpected. Most of life's surprises, while they aren't primarily about money, still have a financial impact, whether it is a job loss, family crisis, medical event, new investment opportunity, addition to the family, divorce, or loss of a loved one. Being on solid financial footing allows you to focus on what is really needed in that moment rather than panicking about the dollars involved. Having recently experienced a family health scare including a trip to the ER and a major surgery, I know firsthand how freeing it is to focus on what is most important in the moment without being completely stressed out about the bills. In my case, I had the freedom to focus on caregiving and healing for our family knowing that we had the means to handle the bills associated with the treatments – thanks to our emergency fund.
Improving our health is something most of us strive to do. When we use the term 'health', we tend to think first of physical and mental health. While these are incredibly important, so is our financial health. Having your financial house in order can improve overall well-being and just make life's twists and turns a bit easier to navigate. Just as we know we should eat a varied diet rich in fruits and vegetables, we also know we should save money for a rainy day and keep our spending in check. However, there's a difference between knowing what needs to happen and actually making it happen. Just ask me how many half-marathon training plans I have created compared to the number of races run. I have made numerous plans and carefully-crafted workout calendars but have crossed the finish line at just three half-marathons. Similar to training for a race, improving financial health takes commitment, consistency, and perseverance.
Financial health comes down to two key factors for me: security and systems.
Security (aka Emergency Fund)
I derive a huge amount of financial security going to bed each night knowing that we have built up an emergency fund to carry us through life's surprises. These funds are set aside as a safety net should something major and unexpected arise (job loss, health event, family crisis). In full disclosure, I hope we never actually have to tap the emergency fund but it does my heart all kinds of good to know that it is ready and waiting. The recent health scare we went through a few months ago further strengthened my belief in the power of an emergency fund. Such a relief!
How much is enough for your emergency fund?
You want an emergency fund adequate to cover several months of living expenses. A general rule of thumb is 6-12 months. Take a look at your situation and come up with a figure that works for you (and helps you sleep better). My husband and I settled on eight months (for now), with plans of increasing to twelve months once we accomplish a few other financial goals. It can be a slow journey growing your emergency fund. Stay the course. It is so worth it!
More than 1/4 of American households have less than $1,000 in liquid savings.
Source: CFSI study, "Understanding and Improving Consumer Financial Health in America"
Systems:
Money management is more about behavior than numbers. I am a huge proponent of using systems and processes to take the work out of day-to-day and month-to-month financial management. Make a plan for your earnings each month and then use technology to automate as much of the implementation as possible. This takes some of the work out of it for you and also limits the opportunities for self-sabotage (talking yourself out of following your plan). For us, these include direct deposit for paychecks, auto draft bill payments for utilities, recurring electronic transfers to savings accounts and sinking funds, and automatic withdrawals for funding ROTH IRAs and college savings plans. Once you set these items up on a recurring schedule, you don't have to mess with them each month or agonize over the decisions every pay period. If you have to write a check or initiate a transfer each month to fund your ROTH IRA, increase your vacation fund or make a college savings plan contribution, chances are that in some months you will talk yourself out of doing so and "redirect" those funds to something else (aka not follow your plan). If you set it up to happen automatically, you are much more likely to stick to your plan and finish out the year achieving your financial goals whether they include a fully-funded ROTH IRA, paying cash for your next vacation or growing your house down payment fund. Set yourself up for success and let technology work for you.
Your financial health matters. Freedom. Security. Peace of Mind.
Happy #FinHealthMatters Day!
thanks for reading,
Lesley
---
The content of strongerwallet.com is provided for general information purposes only. Readers should not act upon the content or information without first seeking appropriate professional advice about their specific situation.
Never miss a post
Thanks for reading!
Subscribe to get my latest content delivered to your inbox.