Day 16 of the Legacy Notebook Series
Week two is finished and you are at the halfway point on this project. Nice work!
Run through the weekly checklist and identify any tasks that you need to circle back to finish.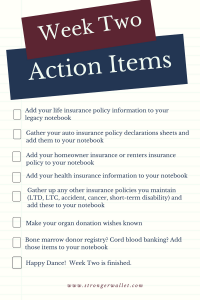 thanks for reading,
Lesley
P.S. Looking for the rest of the series? You can find it here.
---
Stronger Wallet's Legacy Notebook series information is intentionally general in nature and covers typical scenarios. You may have special circumstances that need to be considered. Always consult a trusted advisor before making big decisions about your financial legacy. Feel free to send me questions along the way at strongerwallet [at] gmail.com.
Get started today!
Enter your name and e-mail to get the Legacy Notebook guide delivered to your inbox. Totally free.

The guide includes everything you need to get started: a cover sheet and divider pages to set up your notebook, an overview of each topic, checklists, worksheets, and writing prompts to guide you through the process.